10 CHANNEL PORTABLE DATA LOGGER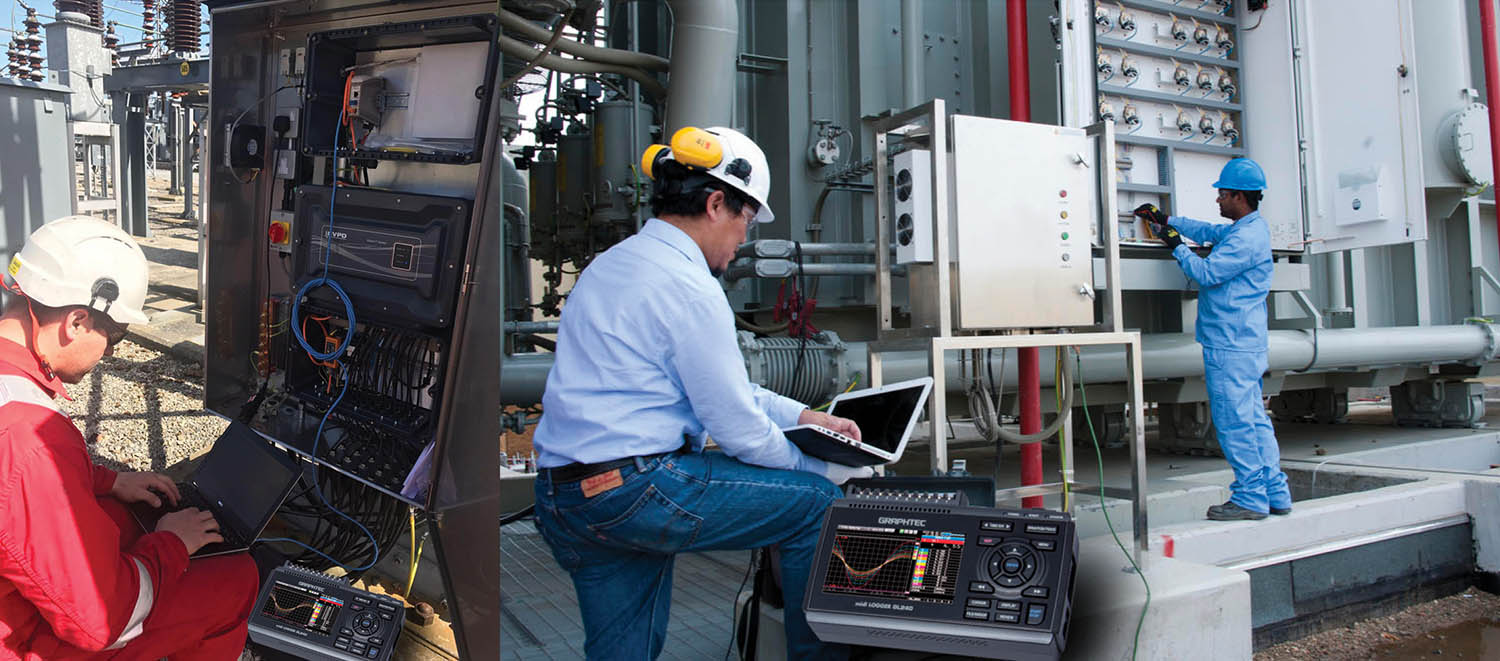 VERSATILITY AND PERFORMANCE
WITHOUT SACRIFICING ACCURATE, VERIFIABLE MEASUREMENTS
INCREASE YOUR PRODUCTIVITY AND SAVE COST
STANDALONE DATA LOGGER GL240
Graphtec GL240 Comes Standard with:
4.3 inch wide TFT color LCD screen

Three types of power source: AC, DC (B-514)*, rechargeable battery pack (B-569)*

Extended memory capacity using SD cards (SDHC compatible up to 32GB)*

Max sampling interval up to 10ms/1 ch. 100ms for all 10 channels

All channels isolated

Alarm output ports up to 4 channels

Logic/Pulse signal input port up to 4 channels

Flexible input system for voltage, temp, humidity, pulse and logic signals

Smartphone, remote access monitoring capability

Wireless LAN using optional* WLAN Unit B-568 for remote monitoring and data logging
*Optional accessories not included
GL240 is a 10 channel comprehensive data logger and the best value market leader. This compact, comprehensive data logger accepts voltage, temperature, humidity, pulse and logic signals. Channel-to-channel isolation means wiring errors or overloaded channels do not affect neighboring channels and we focus our effort on providing you accurate data you can count on.
Application Industries Benefiting from data logging with the GL240:
Aftermarket Automotive Tuning

Agriculture and Food Manufacturing

Greenhouse and Hydroponics

Construction and Civil engineering

Machinery Manufacturing

Automotive Industry

Aerospace and Military Industry

Utilities / Gas and Electric

Battery Manufacturing

Electrical Appliance and Office Equipment

Electrical Service and Maintenance Companies

Food Processing

Rail Transportation

Raw Materials and Components Manufacturing

Research and Development
WIRELESS MEASUREMENT USING WIRELESS LAN (optional)
Wireless LAN option enables the wireless communication with other device. When GL240 is set as a station, PC and smart devices can access the GL240 directly using the Wireless LAN module. B-568 wireless module option is required.
COMBINING GL100-WL AND GL240
GL100-WL can now be connected to the GL240 as a remote sensor using the WLAN feature. GL240 supports 1 unit of the GL100-WL, with real time recording. The measured value from the GL100-WL will appear on the GL240 display wirelessly and records in a single file along with the measurement value from the GL240 main inputs. Additional measurements for acceleration/vibration, CO2, light/UV, temp, humidity, and AC current can be wirelessly monitored.
ALL CHANNEL ISOLATED/UNIVERSAL INPUT
Channel to Channel isolation is the highlight of the Graphtec data loggers. Along with its compact footprint, GL240 contains an isolated input system which ensures that signals are not corrupted by inputs from other channels.
MAXIMUM SAMPLING INTERVAL OF UP TO 10MS
Provides faster sampling rate of 10ms for a single channel voltage measurement. Simultaneous scanning feature allows up to 100 ms when measuring all 10-channels.
BUILT-IN 4GB FLASH MEMORY WITH SD CARD SUPPORT
The new GL series enables reliable long term measurment with its built-in 4GB flash memory and SD card slot for external storage devices.
Various functions, such as a bar chart data display, alarm output function, and networking features, are available in the GL240 to assist convenient and helpful features for additional data logging capability.